Exercises for Women
Exercises for Women- Why Women Need Different Exercises, What are the Best Exercises for Women and How to do Exercises for Women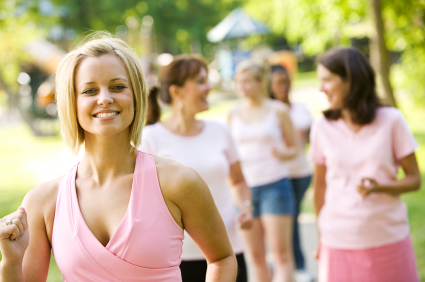 The are numerous reasons why you want to start or maintain a regular exercise program. You might want to lose weight what becomes harder and harder especially for women over 40. Or you want to prevent osteoporosis and be healthier. Regular exercise brightens your mood- helping women at and after 40 deal with the effects of menopause.
Exercises for Women- Why Should They be Different From Guy's Exercises
One of the most prominent reasons we have found for women to be on exercise programs was to have a lean, toned body. This is a different view than most men have. Men typically want to bulk up and get bigger. So women should exercise differently to achieve a different result.
Also, a woman's physique is different from that of a man- the weight distribution on the body is different and the center of gravity is lower.
What Kind of Exercises for Women are Available?
There are different ways to categorize exercises. A popular distinction is in the 3 categories of cardio, strength building and flexibility. Women, and particularly women over 40, should do all three of them.
Best cardio exercises are interval training exercises- relatively short bursts of high-intensity exercise followed by longer periods of much lower intensity. This is the best use of your time and the most efficient type of cardiovascular exercise.
For strength building it's best to look into which part of the body and which muscles are targeted by each exercise. I'll include a list below.
Flexibility training is absolutely mandatory. As we get older our bodies become more and more tense. If you want to keep a youthful appearance you need to maintain the flexibility of your body. The minimum you need to do are stretching exercises, but these are best combined with doing Yoga or Pilates.
If you want to lose weight, you need to put special emphasis on cardio (to burn fat) and strength training to build muscle. Muscle tissue burns fat even when you do not exercise.
Strength Training Exercises for Women
There are a couple of different exercises available for every area of the body you might want to target:
How to Do Exercises for Women
I'll provide specific details on how to do the individual exercises along with the exercises. But lets go over some general guidelines.
Your Time Commitment to do the Exercises for Women
To be successful at your exercises for women plan set aside at least 3 hours per week- best 6 times a week 30 minutes. If you exercise only on the weekend you will not achieve much.
To get enough variation I recommend to change the type of exercise daily, for example do Monday and Thursday strength training, Tuesday and Friday cardiovascular training, Wednesday and Saturday flexibility training.
When you are new to exercising, do not strain yourself. Build up the intensity slowly.
And the best tip to ensure you actually do the exercises for women: Find a fitness buddy to do them together. If you have an "exercise date" you will achieve more than doing everything alone. And: It's more fun too.
In this article I've summarized the general outlines on exercises for women.
Recommended reading for "Exercises for Women":
Do you have a comment on "Exercises for Women"? Use the comments section below! I love to hear from you.
©2010 CatchYourCalling.com, LLC, All Rights Reserved.